My First Boats
When I decided I was going to get into paddling I did a ton of research on boats, and which boat would be the best river runner for a beginner, but one I wouldn't grow out of too quickly. I also had to factor in the fact that I am a 6'4″ 185-90lbs tall and lanky guy. The one that people seemed to rave on was the Liquid Logic Remix. That was the boat I really wanted. All the reviews said they were great for tall people, easy to roll, and really comfortable.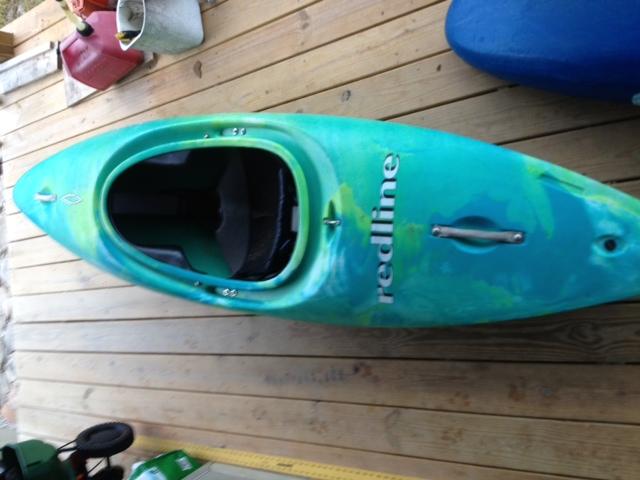 Technically this was my first boat.
The first boat I found, however, that I thought was ok was a Dagger Redline. In a couple forums there were a few tall guys who said they loved this boat so I thought it would be ok. It seemed overall like people generally liked it. I found one on Craigslist for 240$ with a spray skirt and air bags. Seemed like a pretty good deal to me so I bought it. When I went to pick it up, I figured out pretty quickly that there is no way my tall lanky body was going to fit into this boat with the bulk head in it. Once I removed it, I found it to be not too terribly uncomfortable. This same guy had a brand new Werner Sherpa paddle and he sold it to me for 200$. It had a 45 degree feather, was 197cm long, and was a straight shaft. I took the boat out on the lake that evening for just a bit. Literally like 10 minutes because it was almost dark. It was the first time I had ever really been in a kayak. It was so wobbly, and I thought I was for sure going to swim as I paddled around on the lake.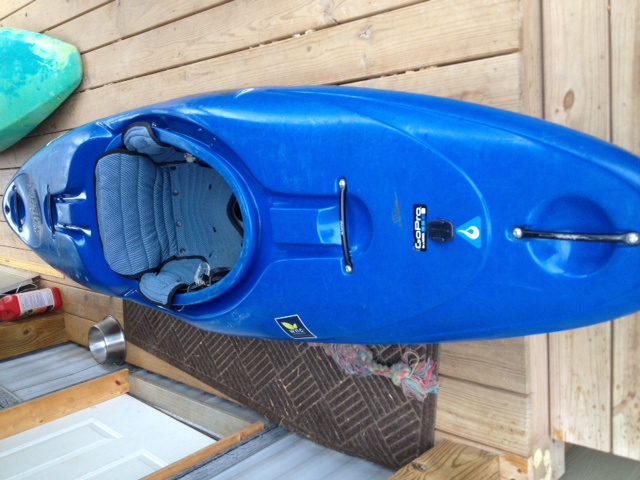 This is the boat I learned in. My first rolls and river runs were in this.
I talked to a couple friends of mine and told them I was going to buy a Redline but what I really wanted was a Remix 69. It turned out that one of them had one they were selling but it was a Remix 59. I wanted to see if it would fit me so he brought it to pick up soccer and let me try it out for a weekend. I took the Remix 59 home for a test run. On land, I found it to be a boat I could squeeze into and it was way more comfortable than the Redline. I decided I would go ahead and try to figure out how to roll before I bought the boat and so I took the boat out to begin my first attempt. The Remix, after all, was supposed to be super easy to roll.