Art Loeb - A Brutal Warm Up
Ben got this idea to thru hike the Art Loeb trail on Friday. I was game. I needed some practice and I needed to see how Lucy would do. So we packed up and left right after work. Off we went, Ben, Lager, Lucy, and me. We set shuttle at Camp Daniel Boone and got to Davidson River Campground pretty late. It costs $22 for a campsite if you ever want to camp there. We set camp and hit the trail some time around 9AM. Oh, precursor, we couldn't find a map anywhere so we were relying on the white blazes that marked the trail. We just hoped it was well marked.
We started up hill. We continued walking up and down, mostly up, a pretty steep terrain for some miles before we met our first group of hikers. It was fun and hard but I was enthusiastic. We met a couple guys at a shelter who told us of Pilot Mountain's brutality but I figured it couldn't be any worse than the mountains we had already climbed.
Pilot Mountain is a BEAST!!! It's not hiking at all, it's mountaineering. Give me some rope and let's set a belay.
Be prepared for a strenuous climb of 850 feet per mile for 1.5 hours from Gloucester Gap to the summit of Pilot Mountain along the Art Loeb Trail. ~TrimbleOutdoors.com
Strenuous is a generous term after you have already hiked some 12+ miles. Anyhow, we reached the summit, which is 5095ft and it was a beautiful view. I reached it some 15 minutes after Ben and Lager.
Going down the backside of the mountain was the first really steep downhill we had descended. It was considerably toiling on my knee. I was ready to set camp at the base of the Blue Ridge climb but Ben was determined to press on until Black Balsam. We didn't know it at the time but that put us at a 19.3 mile day. The last 4-5 miles were miserable for me. My knee was hardly functioning, and Lucy and I were walking terribly slow. Lager wasn't phased by anything, always running back and forth or wanting to play stick. And Ben, well he is a far better hiker than me.
Lucy was a champ. She was hit by a car in January broke her pelvis and dislocated her hip. She did so good! We were the two gimps in the group. I tore the meniscus in my left knee on Christmas Eve. Fun, Fun.
We made it to Black Balsam that night, having to hike a little ways with the headlamps on. But still we made it. Mostly because of Ben's determination. Definitely not mine.
We got an early start the next morning hiking up Black Balsam Knob. My feet and joints ached. I felt like an old man. It was extremely windy, and the force bout made me fall a few times. We saw a sign, Art Loeb <- so we proceeded downward. It was a very rocky downhill and when we reached the end we were in a parking lot. Hmm. That's curious. Art Loeb Spur -> said the sign pointing back at up the trail we had just climbed down. Crap. Luckily the Ivestor Gap Trail was in front of us and would meet with the Art Loeb trail well before shinning rock so that was the way we decided to go. It was a good thing too. Water seemed pretty scarce on the trail and we had been pretty much out since the ascension of the Blue Ridge. Make sure you are prepared for this if you decide to thru hike Art Loeb.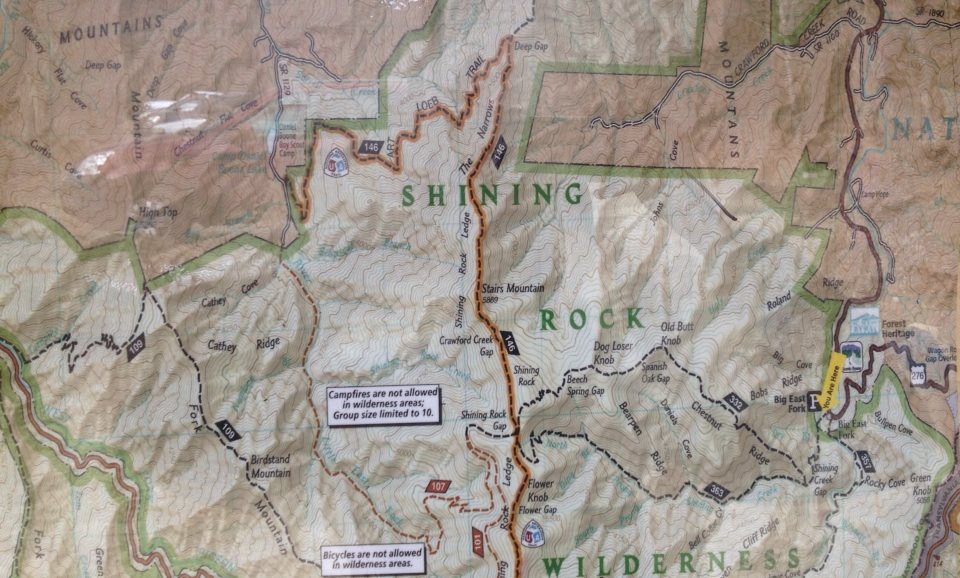 Shining rock is where everything went downhill. Literally. 4 trails meet at Shinning Rock. None of which are marked really well. We walked into a pine grove and the trail just disappeared. There were some steps going up and since Art Loeb seemed to cross every peak in it's path this had to be the right way so up we went. The trail splits. So we go left. It seemed logical. We reached the peak of shinning rock, where I took that cool selfie, and then we followed the trail downward until it disappeared. Back we go. Must be the trail to the right. It was obviously well traveled.
We proceeded downward for some ways, climbed a little hill and then Descended 2200ft in little over 3 miles. The down hill was far worse than pilot mountain. We kept looking for white blazes never to see another. Turns out we were on Old Butt Knob Trail. I would have hated to hike up the trail but the down hill was far worse. Steep and bad for the knees. The trail butted into the Big East Fork Connector. And thus our journey was about to end. There was no going back, not for us, it was time to call for a ride. And a very big thanks to Sophie who was kind enough to pick us up. :D
So if you want to hike Art Loeb here is some advice.
Bring a map. Shining Rock was the only place we had trouble really.
Expect water shortages. 2 Liters should suffice.
Know your limits. Davidson River Campground to Balsam Knob is an intense hike. I wouldn't do that again.