A Friend Like Susan
Friendship is unnecessary, like philosophy, like art…. It has no survival value; rather it is one of those things which give value to survival.
~C.S Lewis, The Four Loves
Good friends are hard to find. A friend like Susan is even harder. We were in the same class at Mars Hill College and met at a student led worship service called The Theater. I can't remember how or what brought us so close but it's hard to imagine a time when we weren't friends.
[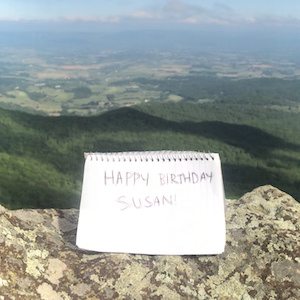 couraged me in some of my hardest times. She never expected me to be anyone but me. Quirky, goofy, and stubborn. If I was hurting she didn't want me to put on a smile. She listened to me process my thoughts and heard me tell the same stories over and over. She was slow to give advice but when she gave it, it was worth listening to. She is very wise. She taught me what it meant to love a friend and she demonstrated what it meant to be one.
As life has changed, so has our friendship. Susan is married to a wonderful man, Kris, and has 2 radiant children. I have only met Annalise but she is full of joy and her smile will melt many hearts(It makes me feel sorry for Kris, but only in the best of ways). We don't talk as much as we did, but that's not a complaint. Life has changed, as it does. Our friendship has evolved, as it should. I am lucky enough to have dinner with them a couple of times a year. Those times are always special.
Today is Susan's birthday. I wish I had better words to express how grateful I am for her friendship. How thankful I am for the spaghetti dinners and the time in the rocking chairs on the porch. For our talks and for the letters of encouragement she gave me. For the ears that she lent me, and for the times she helped me find myself. For the effort that she made to be my friend. I hope she knows how much her friendship has meant and means to me. She is my closest and dearest girl friend. I wouldn't have it any other way.
Susan, thanks for being my friend. Happy Birthday.
How many slams in an old screen door?
Depends how loud you shut it.
How many slices in a bread?
Depends how thin you cut it.
How much good inside a day?
Depends how good you live 'em.
How much love inside a friend?
Depends how much you give 'em.
~Shel Silverstien, How Many, How Much