Beautiful Sites, Beautiful People
So often we watch the evening news and see all the bad things happening. People killing, fighting, politicians being devious, and any bad sort of thing you can and can't image. What a poor representation of the world. Sure there are bad people, but there are some amazing people as well.
The road I travel is becoming less and less planed. I meet a person in a coffee shop who says you have to see this, you have to meet my friend, you should eat here…and so I've decided that's how my route will take shape. If an opportunity is given, then I will take it. I hope that makes sense. My heart is so full, and I feel like I'm being blessed in ways that are hard to explain.
Blessings are about perspective. I feel like some may look at my trip and view it as an endless vacation, but it's not. I'm alone apart from Bobby. Alone. I feel alone and it's not always comfortable. I feel like a stranger because I am. I try to be sparing with my money. I camp almost every night in a space that is maybe 2 foot tall, 57 inches wide and 72 inches long with a dog who ways 68lbs. To put that in perspective for you I'm 76 inches tall. Yeah it's small and uncomfortable, with no air conditioning apart from the weather outside. If it's hot I'm hot, and if it's cold I'm cold. My point is, this is not a joyride but I feel more joy than I've felt in a long time.
Leadville get's my feet wet. I'm learning how to camp, to save money, and talk to strangers. I'm not particularly good at small talk, but I'm learning. There is a young man drawing next to me. "What are you drawing?" I ask and he explains he's just doodling. We chit chat in and out of work. He works at the coffee shop and his name is Brian. Every time I go into the shop and he's working I say "Hey Brian" and he responds. That's the first step, a friendly hello. You don't dive deep with everyone but a hello does a lot for feeling alone. I pick up a hitchhiker, I meet another web developer, and I can't help but feel as though this was planned.
In Nebraska at a random coffee shop I found online called the Bean Broker I meet Andie. Andie is like an instant mom. She makes me feel as though she's known me for years and enthusiastically shows me the beauty of a state I thought would be as exciting as Kansas. "Oh you have to visit my son in Bozeman. You have to stay for the Post Playhouse. You have to…" I grin from ear to ear at her excitement. Andie is a rare and special person. I later find out her entire family has this rare and special quality. They are life givers. They are beautiful people.
In Montana I meet up with a high school friend. We've not been in the same circle since high school but have an overlapping group of friends. "Why haven't we hung out until now?!" John and Jenn are incredibly special people. They are more observant than most. John never missed a chance to admire creation and notices the things so many people miss. The nuances in the clouds, the glitter of a rock, the sedimentary layers, and he is a wealth of knowledge. He takes me to places like Beart0oth Pass, and Bighorn Canyon. Those places weren't even on my radar, and yet they are amazing!
In Wyoming I hear about an event called the Hootenanny. "Hoot" for short. It's an open mic and a very big event in Moose, WY. "This is listening music." says one of the founders. And truly it is. The audience is so attentive. I told myself that I would find open mics to play at when I left. This was to help get me out of my comfort zone.
Before the "Hoot" began I got some food from a dutch oven. I've never ate food cooked this way so I had to try it. It was delicious. I finish about half my plate and think I need a togo box. There is an elderly man sitting in front of me. His name is John and he's eyeing my leftovers. Half a rack of ribs, some potatoes and carrots, and an ear of corn. "Are you going to finish that?" he asks. I would later but I want him to have it. It's weird how you can tell when someone wants something. "Would you like it?" I ask. "Oh that would be nice." I scrap my leftovers into the dessert plate and slide the leftovers to him. He reaches over to shake my hand. "Nice hand shake" he says. "Do I owe you anything?" He asks because the plate is pretty big. "Oh no, this is my privilege." I tell him. He smiles and chows down.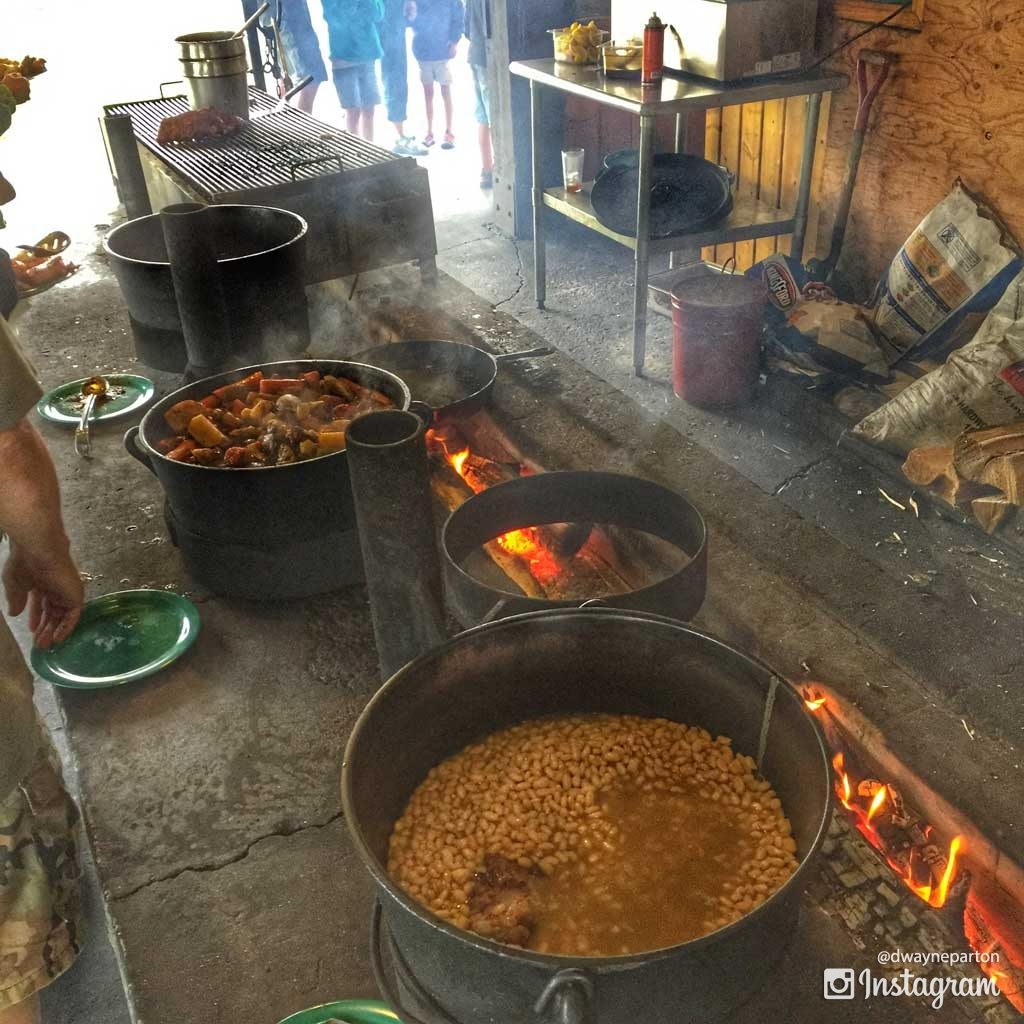 There is an elderly couple sitting next to me. We've been chit chatting and they are eager to hear me play. "Don't expect too much." I say with a smile. They laugh and assure me they are going to stay to listen. I bet there are 100+ people in the audience, all listening intently, all clapping as each of the talented musicians finish. I am last in the first set to play. The order is given out by drawing and I am number 18. This gives me time to settle my nerves.
"This next artist we have. Well his is from somewhere. This is his first time at the Hoot and he's tough." say Bill Briggs. He's an elderly man and was the first to ski down Grand Teton. He walks with a limp and I was earlier informed of the urban legend about him: Before a hip replacement surgery the surgeon told him he could either make it where he could walk or where he could ski. Bill choose to ski.
Anyways. I walk up on to stage. I feel like a big green giant playing a guitar that's way to small. It's a bout the size of a ukelele. I've chosen to play a song called Tennessee.
[soundcloud url="https://api.soundcloud.com/tracks/87793158″ params="color=ff5500&auto_play=false&hide_related=false&show_comments=true&show_user=true&show_reposts=false" width="100%" height="166″ iframe="true" /]
When I get to the punch every one laughs. I play an extra measure. I feel so good. I'm grinning and breaking hearts. Just kidding about breaking hearts. But I am all smiles. The audience applauds for me like they did for the best musicians of the show. I feel so encouraged. So blessed.
The elderly couple comes up to me afterwards. "Oh we loved your song." they say. We want you to come stay with us. I've got a dog though, and for this reason I'm forced to decline. No dogs are allowed. I feel so special, and so blessed.
Oh look it's 11:11! Make a wish. *****wishing**** Seriously just happened.
Life's not particularly comfortable for me. The chair I'm sitting in is hard. People are chattering around me. I haven't had a shower in a couple days now. But I feel blessed. I woke up to the most beautiful view this morning. People are being placed in my path and I truly feel like I'm following a thread. These feeling fluctuate so much. I still get frustrated and feel alone, but I feel so blessed.
I have so much to write. I feel like this doesn't even remotely do justice to it, but it's a start.